The Rejuvenators's Cup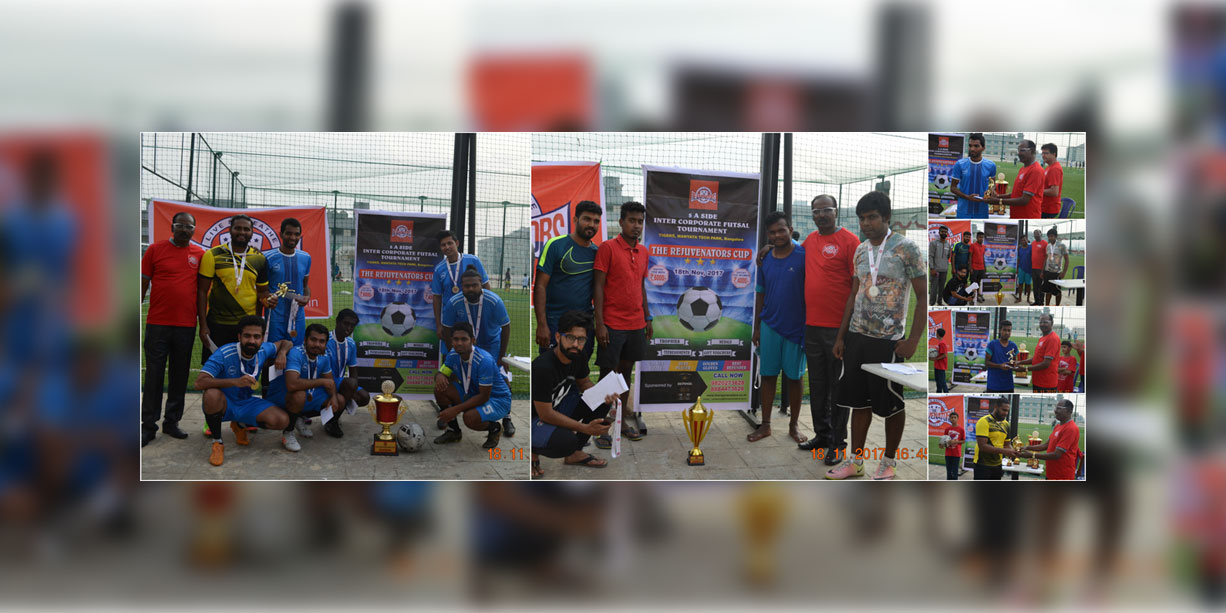 November 18 , 2017 @ 8:00 am

-

5:00 pm
Congratulations to each one of us for being part of a wonderful day of sporting spirit. The plan for the day was a League Plus Knockout Corporate Tournament between  Target, Nautilus, Xphase Solutions, ANZ Red, ANZ Green & Dell.
All the participants received their welcome breakfast and the day started off at 10:00 AM as the teams prepared themselves to witness our first match between Target & Nautilus. As per the schedule each team were scheduled to play 5 matches against each other and the top two goal scoring teams would enter the Grand Finale to win the cup.  By late noon, after a sumptuous lunch, the league matches continued and after a set of hard fought matches, we had the Finale between Dell & Nautilus.
The Finals was a battle of stamina and strength between Dell & Nautilus. The finals witnessed a see-saw battle between the 2 strongest teams of the tournament and the Finals lived up to its expectations. After full time the 2 teams were locked in a 2-2 score line post which we witnessed another roller coaster Penalty Shootout where Dell kept their nerves and emerged victorious and were the deserved winners of the Rejuvenators Cup.
"Dell" lifted the Winner trophy & "Nautilus" was the Runners-up!
Our individual Trophy Winners were –
Paul (Nautilus) won "The Best Player" trophy with 7 goals
Don Bosco (ANZ Green) won "The Best Defender"
Satish (Dell) won "The Golden Gloves"
Raghu (Dell) with 9 goals was "The Golden Boot"
The trophies were given by our Chief guest.. Footballer of yesteryears Mr. Mohan Kumar.
With the last event for this year, The "Rejuvenators Cup" helped us go one notch higher as we prepare for our next event in Jan 2018.
Special thanks to our Sponsors "100 Pipers" for making this event a successful one..