SPORTS FOR ALL : Every Child Has the Right to Play – 2018 – Bangalore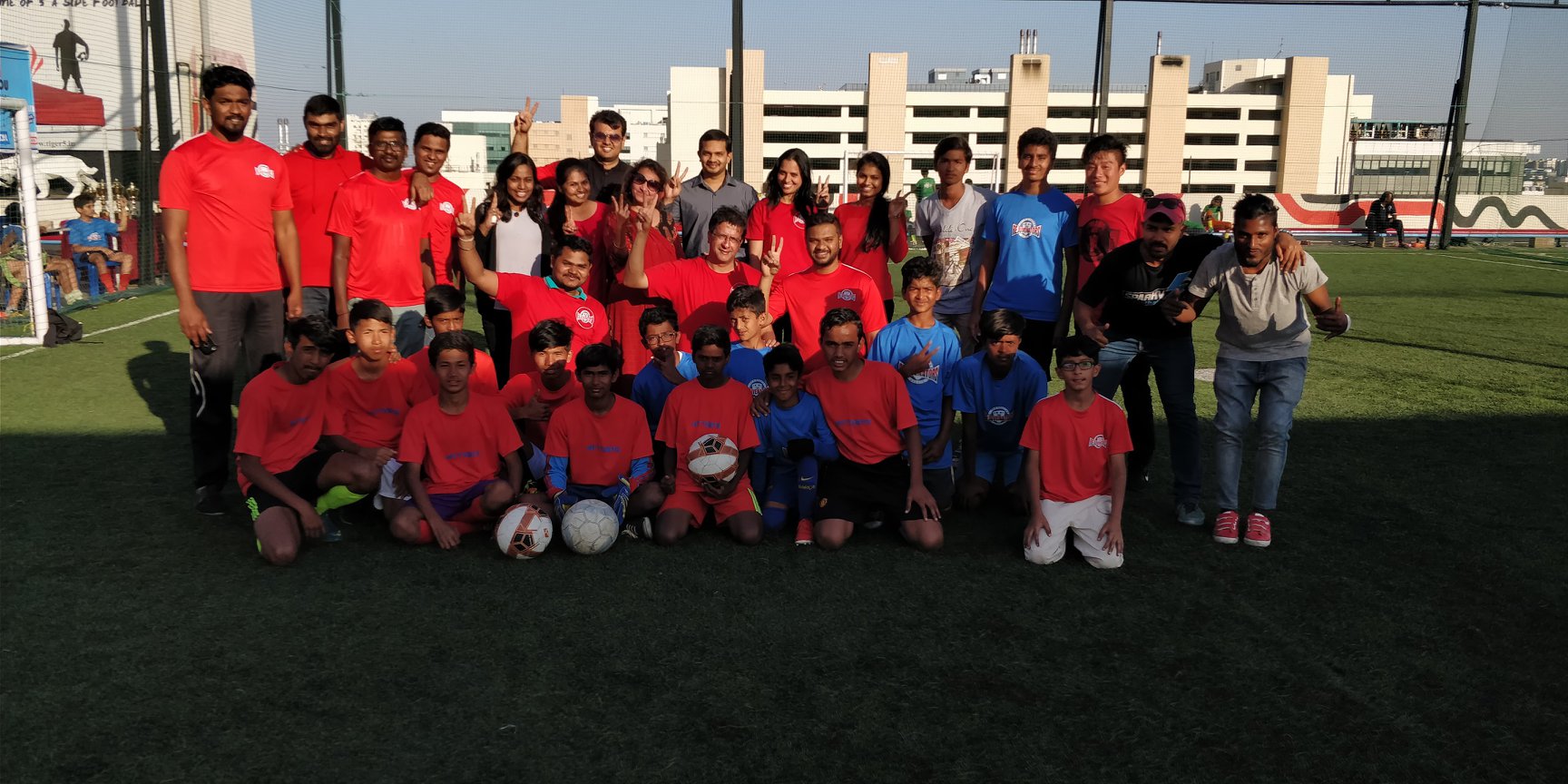 March 28 , 2018 @ 8:00 am

-

5:00 pm
In order to provide a platform for under privileged children to not only play but also to showcase talent during the Inter NGO Futsal Tournament event ,The Rejuvenators organizes an Annual Tournament for NGO's every year.
As part of the Annual event for 2018, " Sports for All – Every Child has the Right to Play!! " , 32 NGOs were invited to participate across 2 locations – Mumbai & Bangalore. A total of 232 kids participated in the event with huge enthusiasm & energy.
Bangalore Edition
24th Feb 2018 was a memorable day for The Rejuvenators as we hosted our first "Sports for All – Every Child has the right to play" event at Bangalore.
It was a day of fun & frolic, joy and entertainment and most importantly competitive and life changing for many kids as they hope for a brighter future.
The highlight of the day was the demonstration match from the visually challenged Football Teams from Snehadeep. It was great privilege to have them participate in the tournament. We witnessed an inspiring story that talks about how we must all value the things we have & channelize them towards positive goals rather than brood over what we don't have. It is easier said than done but it was proved by the Senhadeep teams that its truly possible. The way they played can outshine the best of us. The fighting spirit & competitiveness among them was mind blowing. Wont you agree if i say, God always replaces another strength while giving you a flaw, it's up to u to look for it within yourself.
It was a completely satisfying event with 112 participants, another 70 people to cheer and support, energized & engaged volunteers, Music, dance, breakfast, lunch & snacks, presence of Eric Benny, leading sports business owner & an inspiring speech by our esteemed Chief Guest Gopinath.K, International Parasports Badminton & Tennis champion and a great level of sporting spirit and competition by the participants made this event a truly inspiring for us.
The NGOs that participated at Bangalore were
• Nirman
• Sparky Football
• Parikrama
• Makkala Jagriti
• Shinning Stars football club
• Socare (NTT Data)
The award winners of the tournament were
• Boys Winners – Socare (NTT Data)
• Boys Runners Up – Sparky Football
• Girls Winners – Shining Stars Football Club
• Girls Runners up – Parikrama
The winners of the individual trophies and special award winners were
Girls
• Golden Boot – Rafia from Shining Stars Football Club
• Best Defender – Swetha from Shining Stars Football Club
• Best Goal Keeper – Amaravathi from Nirmaan
• Star Player – Spoorthy from Parikrama
• Special award winners – Sneha from Parikrama, Kalpana from Nirmaan & Krupa from
Parikrama
Boys
• Golden Boot – Mangal from Socare (NttData)
• Best Defender – Shashank from Parikrama
• Best Goal Keeper – Vijaykumar from Parikrama
• Star Player – Tanveer from Socare (NttData)
• Special award winners – Tanveer from socare (NTTdata), Nataraj from Sparky Football, Shushanth from Parikrama and Sanjay from Makkala Jagriti
The event was covered by TV9 and 1stNews channel shared the snippets online – click on the below link to take a look.
http://firstnews.tv/rejuvinators-footbal
A BIG THANK YOU to all the participants, Our esteemed guests Eric Benny & Gopinath K, all the coaches and staff supporting the NGOs and last but not the least The Rejuvenators team for putting together a fantastic show.
And it wouldn't be possible without our SPONSORS to pull this off in great style – EBACO, NTT DATA, DECATHALON, ALIG, SAHAYYA, Ocean (Hydration Partner) ,Monginis Lokhandwala and all of our CONTRIBUTORS listed below.
Below are the names of the contributors who helped us with their contributors :
Annabelle Silveira,Danish Ansari,Rahul Singh,Fatema Attarwala,Joan Jo,Anand Babu,Pratima K,Gayithri S,Preethi Ramakrishna,Dilip Singh,AChandu Naidu,Sumit Shewani,Mayank Jhindal,Rahul Kini,Mukesh Kumar,Rahman Khan,Vivek Pandit,Vipul Kumar,Binu Prakash,Mohnish Chawda,Ravish Sharma,Manish Motwani,Hiren Dave,Chinnappa Reddy,Usha Kerketta,Abhay Mamidpalliwar,Sudip Bhadra,Prakash Munavalli,Shreevidya Krishnakumar,Anirban Nag,Suraj Shashidharan,Michael Ford,Shakti Vyas,Divya Jaipuria,Alok Kasliwal,Jyoti Prakash,Babu Ramachandran,Nitin Pai,Annapurna Kumawat,Kanchan Ghoshal,Dipti Shettigar,Thamin Rashid,Seshukumar A,Shraddha Parab,Vincy Fernandes,Abhitabh Saini,Raman Bansal,Ankur Goyal,Gauravi Goundalkar,Sohail Tyabji,Ram Mokarala,Lisa Mody,Abhishek Sood,Mythri Subramanya,Debkumar Dasgupta,Arnab Kundu,Amit Verma,Shrutanjay Nilesh,Sourav Chakraborty,Do The,Fahad Khan,Rishi Naqvi, Subroto Chakraborty,Usha Kerketta,Srikanth Sattuluri,Nishith Srivastava, Sadanand Chettiar,Anuradha Singh,Samir Gupta, Venkatesh Janakiraman,Deepak,Swati Bhattacharjee,Satya Madala,Swanand Joshi,Salman Kazmi, Shivendra Vickram singh,Vinod Rao,Arun Kumar,Rahul Ray,Pat Hathaway,Mary Fernandes,Veena MS,Parveen Patel,Tasnem Naqvi,ALIG,Ruchika Sinha,Rashmi Fernandes,Argho Palit,Probal Mazumdar,Suchitra Sinha,Rimi Basu Sinha,Karthik,Anusha Krishnan,Nadeem Haque,Junaid Menon,Shraddha Shetty,Anuj Pandey,Murali Krish,Rajnish Tewari,Arjun,Saurabh Sharma,Prahanita, Vishwanathan Iyer,Samir Hore,ZAF Pvt. Ltd.,Sheba Asif,Hardeep Singh Gill, Payal Vicharay,Deepti Varshney,Biju Paulose,Malabika Palit,Manish Verma,Imtiyaz Ahmed,Pete Anderson
Thank you for trusting us and sharing our cause.
The Rejuvenators
www.therejuvenators.co.in